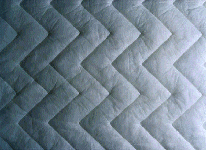 Even the clothes on your children and the bed sheets that you sleep beneath

add to the growing problem of pesticide pollution.
Cotton is the most commonly used organic fiber and for good reason. Conventionally grown cotton is planted on a mere three percent of the earth's land that is suitable for plowing, and it accounts for up to a fourth of the world's pesticide use.
Just one set of queen-size sheets made with non-organic cotton uses one and a quarter pound of agricultural chemicals.
But between 1998 and 1999 organic cotton acreage increased seventy-five percent to a total of 16,473 acres, as more manufactures began using organic cotton.
As the public becomes more informed of the questions that surround the use of pesticides and GMO's the better off we will be. As the demand for organic foods escalates the prices will drop and the variety of organic foods and products will expand and become readily available all classes of people.
use arrow buttons to view pages
This site is the property of Michael McKennedy.
All original images, photographs and content may not be reproduced in any manner
except with permission from Michael McKennedy © 2000
This site created by: Michael McKennedy
Email Michael
Last Update: 10/16/2000